Barcelona, the vibrant capital of Catalonia, is not only known for its architectural marvels and rich culture but also for its stunning beaches. Situated along the Mediterranean coastline, Barcelona offers locals and visitors alike the perfect opportunity to soak up the sun, relax on golden sands, and swim in the refreshing sea. We will explore Barcelona's beautiful beaches and highlight the unique features and experiences they offer. Get ready to embrace the beach vibes and enjoy a memorable seaside experience in the heart of the city.
Barceloneta Beach
Located in the neighborhood of Barceloneta, this is the most famous and popular beach in Barcelona. With its vibrant atmosphere and lively beach bars, Barceloneta Beach attracts locals and tourists who come to sunbathe, play beach volleyball, or simply enjoy a leisurely stroll along the promenade. The beach offers stunning views of the Mediterranean Sea and is easily accessible from the city center.
Nova Icaria Beach
Adjacent to Barceloneta Beach, Nova Icaria Beach is a favorite among families and sports enthusiasts. The beach is well-equipped with amenities such as showers, lifeguard services, and beach volleyball courts. It also offers a range of water sports activities, including paddleboarding and windsurfing. After a day of fun in the sun, you can relax and enjoy a delicious meal at one of the beachfront restaurants.
Bogatell Beach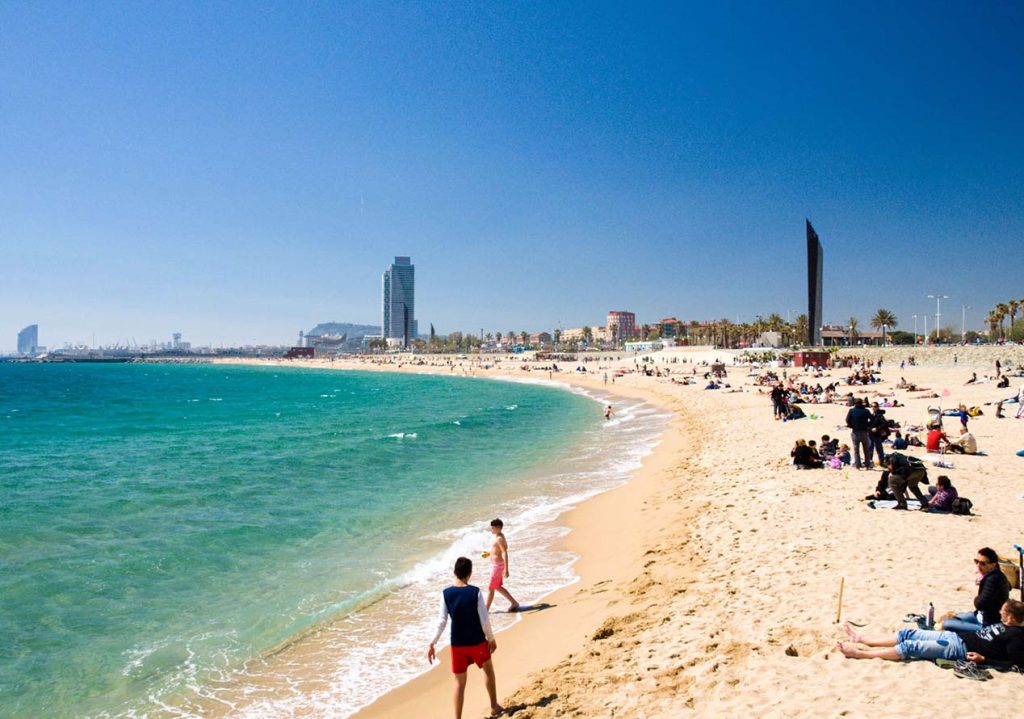 Bogatell Beach is a quieter and more laid-back option compared to the bustling Barceloneta Beach. Surrounded by palm trees and offering a tranquil atmosphere, it is a perfect spot to unwind and escape the city crowds. The beach is well-maintained and offers amenities like sunbed rentals, beachside showers, and sports facilities. Take a leisurely walk along the promenade and enjoy the stunning views of the Mediterranean.
Mar Bella Beach
Mar Bella Beach is known for its lively and youthful atmosphere. It is a popular spot among the local youth and the LGBTQ+ community. This beach offers a clothing-optional section known as the "gay beach," attracting sun-seekers who enjoy a liberating and inclusive atmosphere. Mar Bella Beach also provides facilities for beach volleyball and other beach activities.
Nova Mar Bella Beach
Adjacent to Mar Bella Beach, Nova Mar Bella Beach offers a quieter and more family-friendly environment. It is less crowded and provides a peaceful setting for sunbathing and relaxation. The beach offers wheelchair accessibility and has lifeguard services to ensure a safe swimming experience.
Sant Sebastià Beach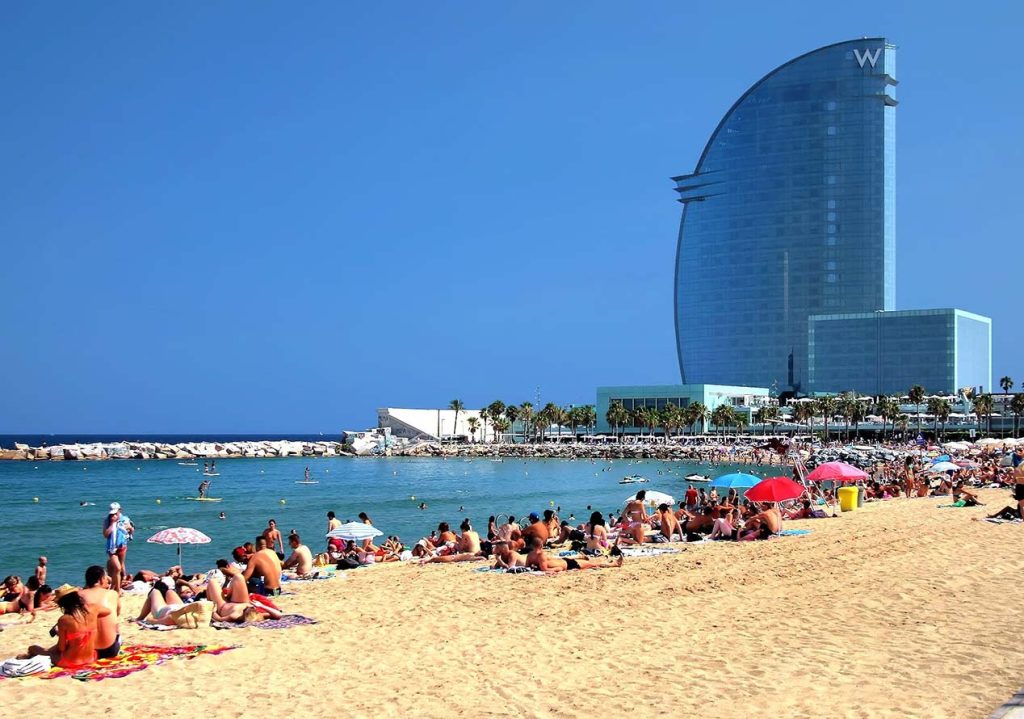 Located at the eastern end of the Barceloneta neighborhood, Sant Sebastià Beach is one of Barcelona's oldest and most traditional beaches. With its wide stretch of golden sand and clear waters, it is a popular choice for locals and tourists alike. The beach is lined with restaurants and beach bars, where you can savor traditional seafood dishes and enjoy refreshing drinks.
Somorrostro Beach
Somorrostro Beach is situated next to Barceloneta Beach and offers a more local and authentic experience. It is named after a shantytown that existed in the area until the mid-20th century. Today, the beach is a vibrant gathering place where locals play beach sports, families enjoy picnics, and friends come together to relax. Immerse yourself in the local culture and soak up the lively atmosphere.
Barcelona's beaches offer a perfect blend of sun, sand, and sea, right in the heart of the city. Whether you're looking for a lively and bustling beach experience or a peaceful and tranquil retreat, Barcelona has it all. From the vibrant atmosphere of Barceloneta Beach to the laid-back vibes of Bogatell Beach, each beach offers a unique experience for visitors. So, pack your sunscreen, towel, and beach essentials, and get ready to enjoy the Mediterranean charm and seaside beauty that Barcelona has to offer.